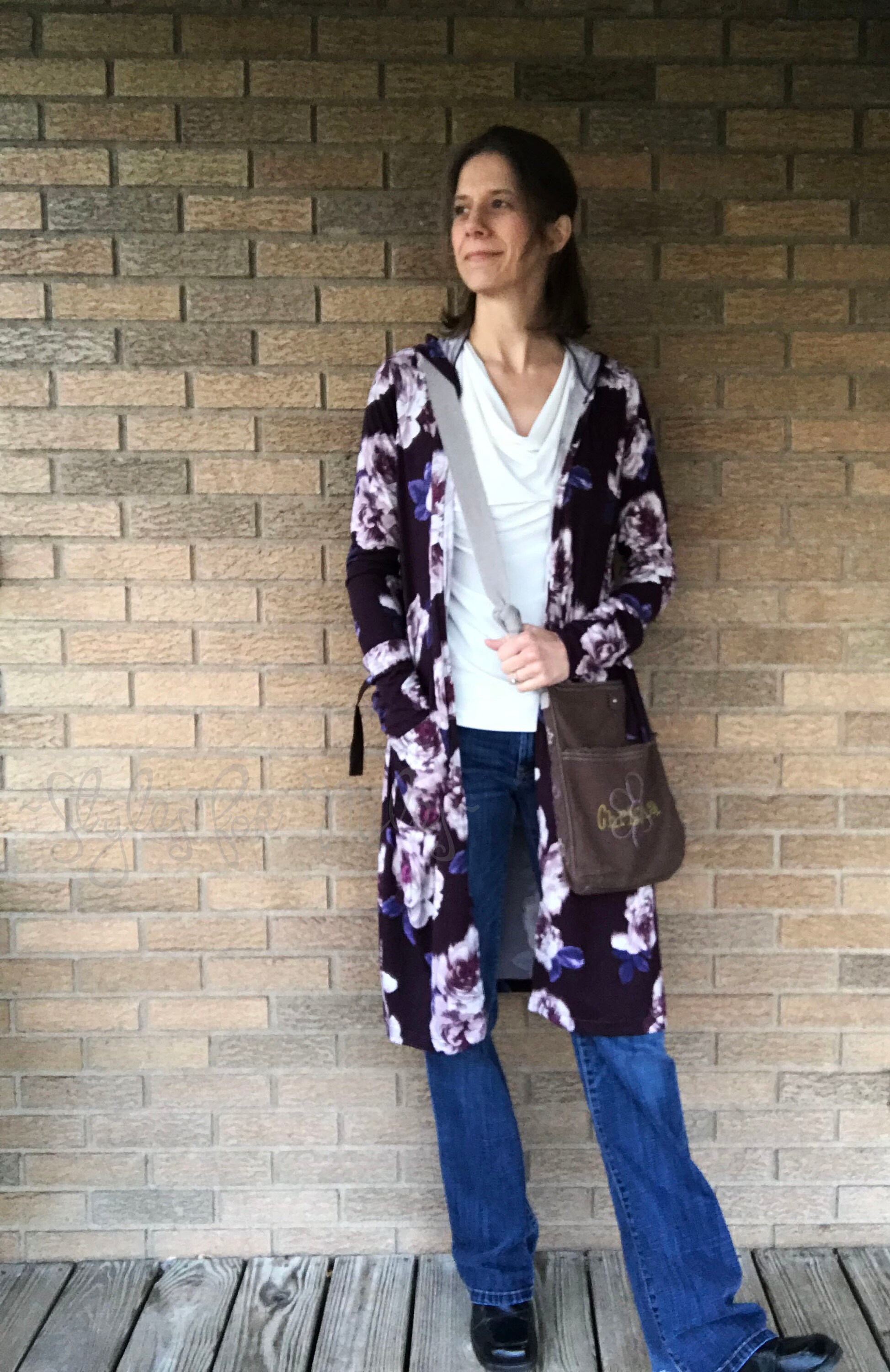 GreenStyle Creations...My First Pattern Test Love
GreenStyle Creations was the first pattern company that ever took a chance on my sewing abilities and my desire to be a PDF pattern tester.  The pattern was the Inspire Tights, and GreenStyle has been inspiring to me ever since.  I have been priviledged to test several of their patterns and own many more.  I am especially partial to their athletic patterns, but usually try not to pass on any of their testing calls.  So, when I saw the tester call go up for the Sunday Cardigan (affil link), I just couldn't NOT apply.  I was thrilled to be among a wonderful group of sewists as part of the development of this terriffic cardigan.  
What You Get
Included sizes of XXS-3XL
2 lengths:  knee or duster
3 options to finish the outseam:  high slit, low slit, or no slit
Optional hood
Optional Pockets
2 options for sleeve cuffs:  regular or lace-up
Vest option
My Options
For this test, I wanted to sew up a knee length cardigan with low slit, hood, pockets, and lace-up sleeve cuffs.  My fabric choice was a rich purple floral double brushed polyester from Sly Fox Fabrics.   I also have a version in the making from a charcoal floral hacci sweater knit from Sly Fox Fabrics.  The designer's recommendation is any knit such as cotton lycra, double knit, ITY, sweater knit, or french terry with at least 50% 2-way stretch.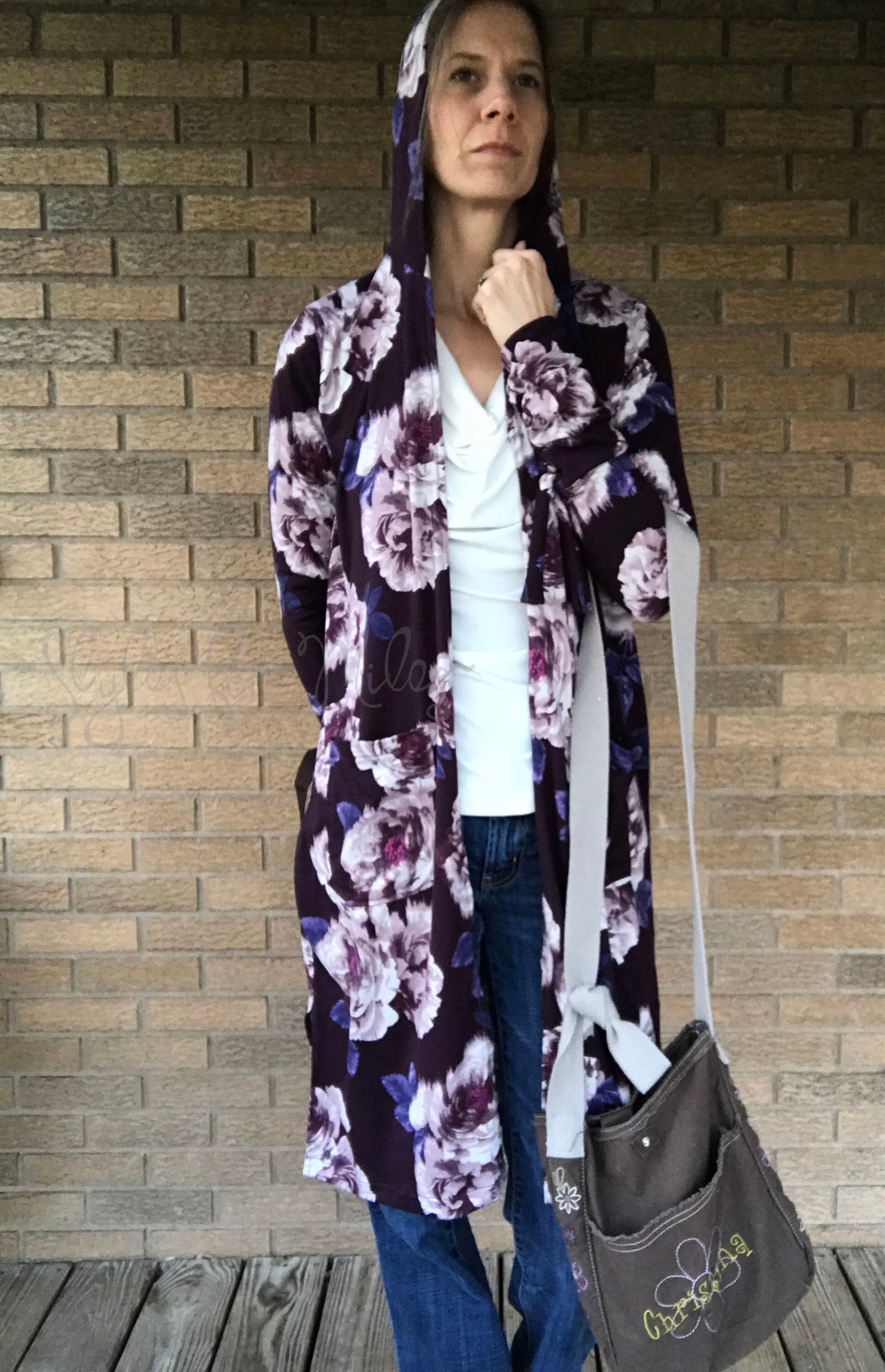 I ran into a little snag during testing when I underestimated the number of grommets I had on hand to use for the lace-up sleeve cuff option.  The required amount is 20 and i only had 8.  Hey, 8 grommets look like 20 when they're still in pieces in a small compartment of an organizer in my sewing space.  I improvised by making 20 buttonholes instead.  Note:  I did buy more grommets for my 2nd cardigan, but haven't finished installing them yet.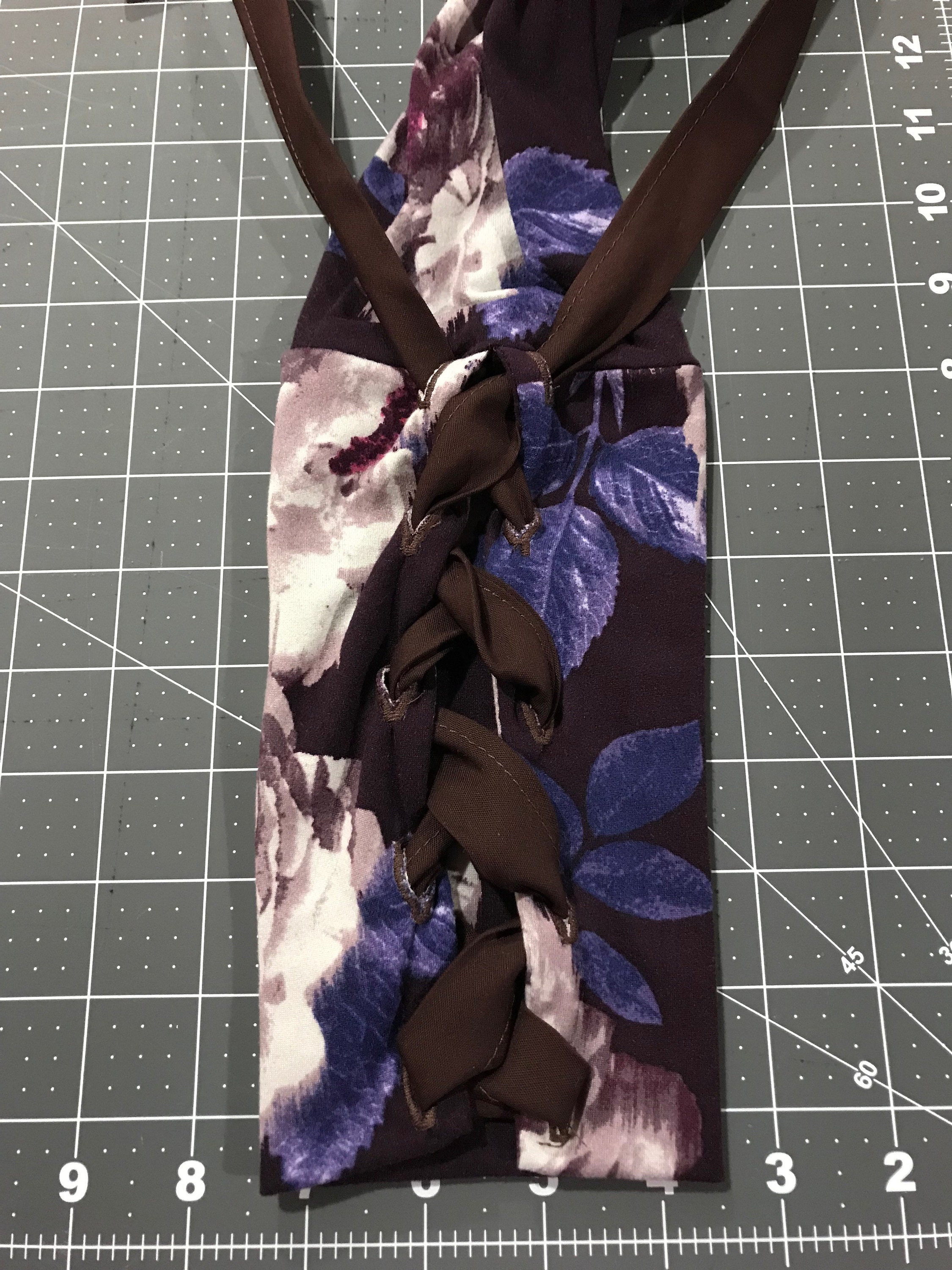 In the above photo, I used bias tape for my lacing, but it's really too stiff for this application.  I didn't find anything at my local JoAnn's that caught my interest, so I ended up making a fabric tie from my main fabric.  It's still not exactly right, so I'll keep looking.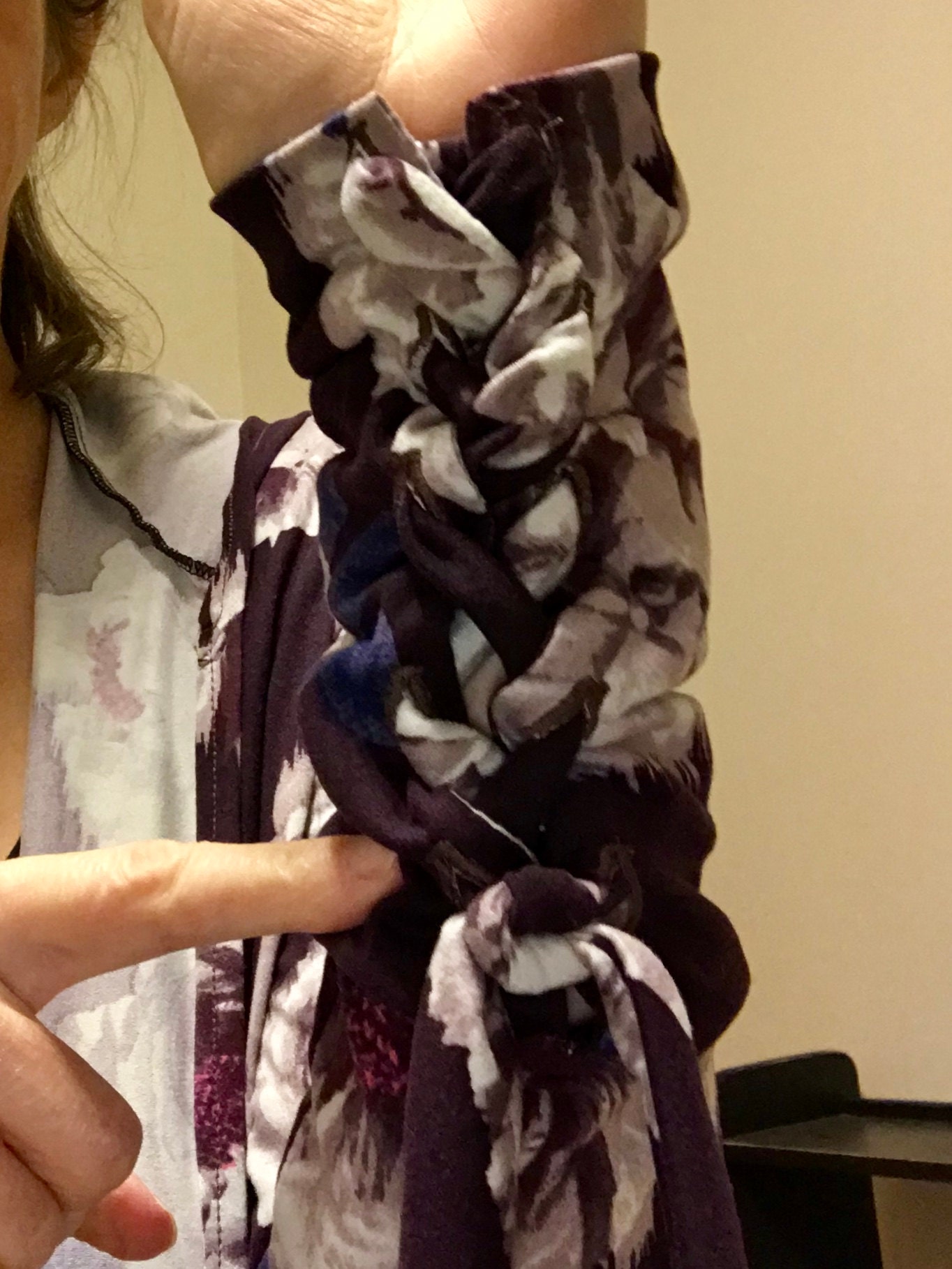 The one thing of which I'm not fond in this version has to do with the fabric itself.  The white wrong side  of my fabric shows when the hood is worn down (see the photo below).  If this look isn't for you, either, pay special attention to your fabric choice.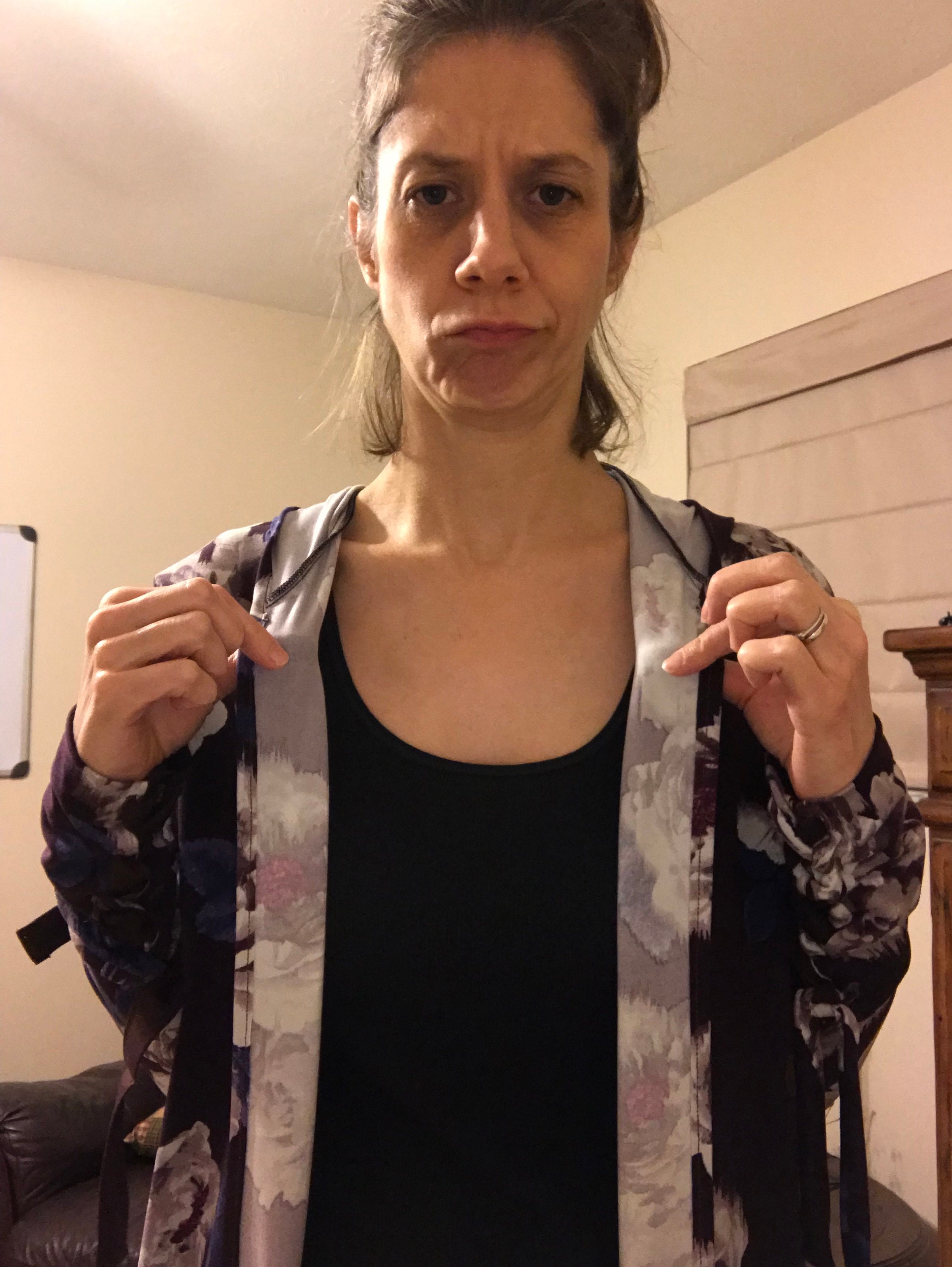 I can live with it, but I tried to cleverly disguise it in my styled photos for the designer.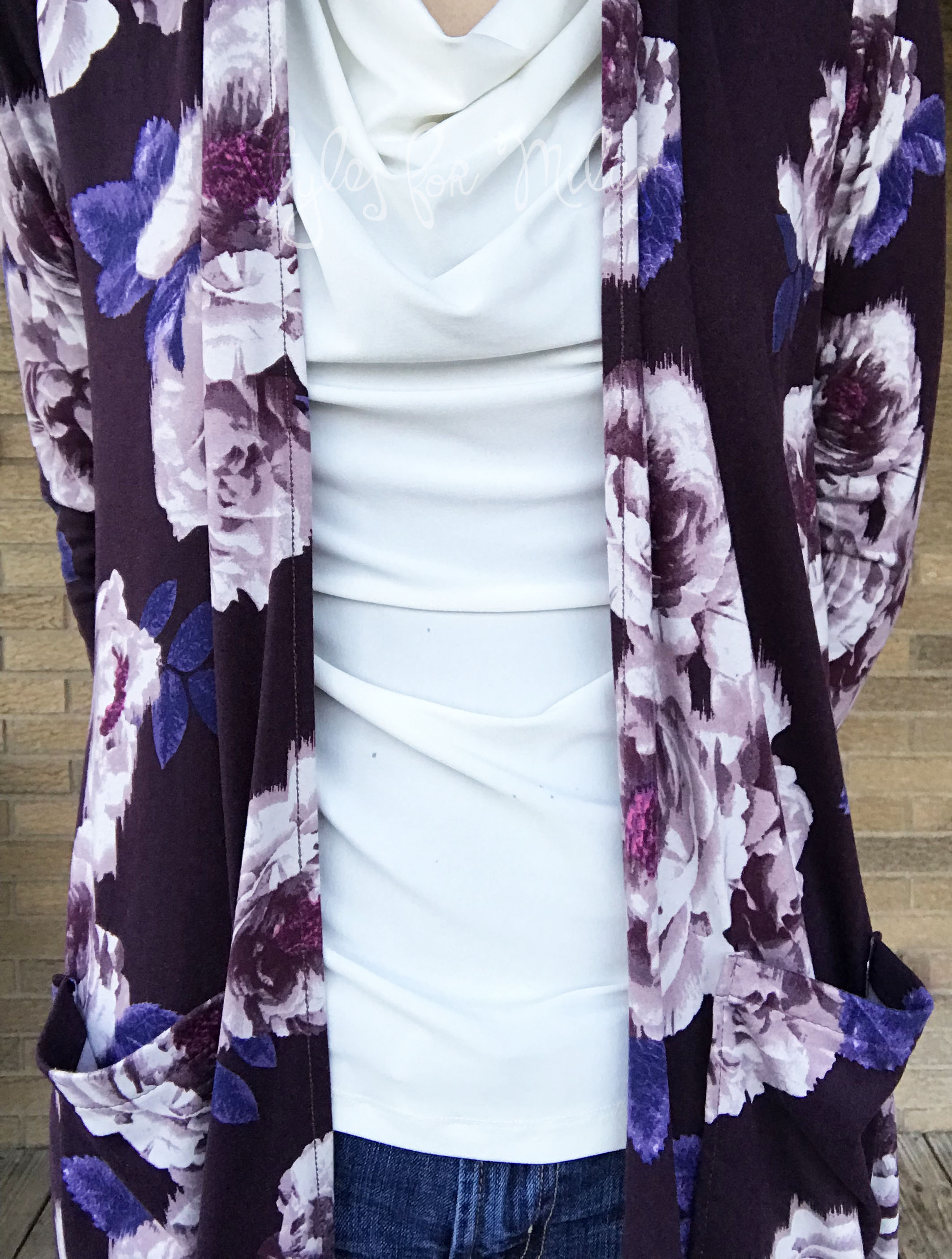 I love the look of this cardigan with the hood up.  It just makes me feel cozy inside.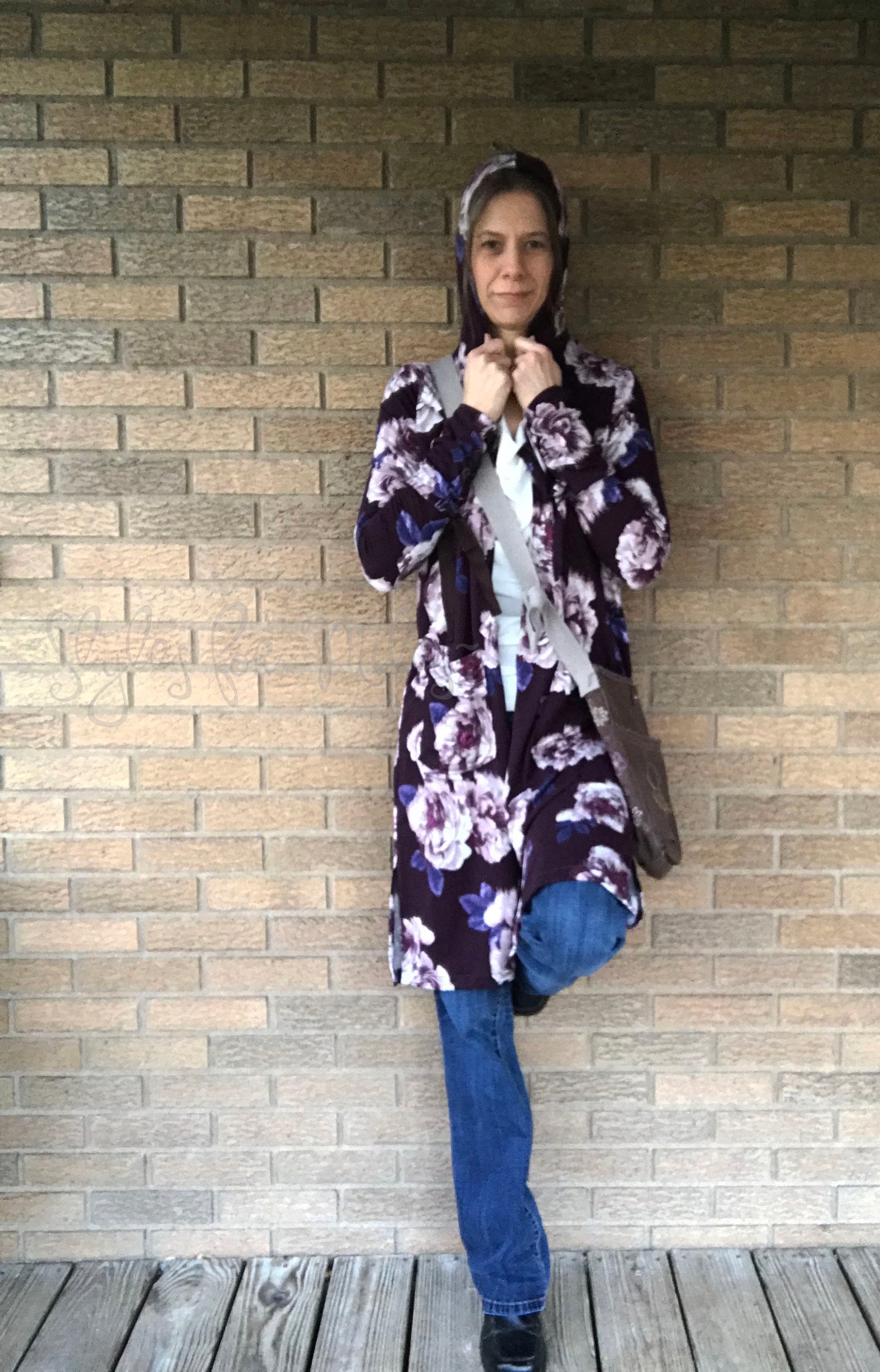 This pattern has the ability to be so versatile, depending on fabric choice.  Choose something lightweight and gauzy or mesh lace for summer (make the vest option), double brushed polyester and lightweight sweater knits would be perfect for spring or fall, and mid to heavier weight sweater knits would carry you through winter.  The choices are endless!  It's a fairly quick sew and the tutorial gives detailed steps for the more challenging aspects, like sewing the slit option.  Grommet installation is as simple as marking their placement on your cuff and installing per the manufacturers direction.  Hemming is a breeze for this pattern, and that's saying something coming from me, one who despises hemming.  So don't be intimidated!  Gab your copy of this great pattern while it's on sale for only $8.50 through Sunday, 12/17/17.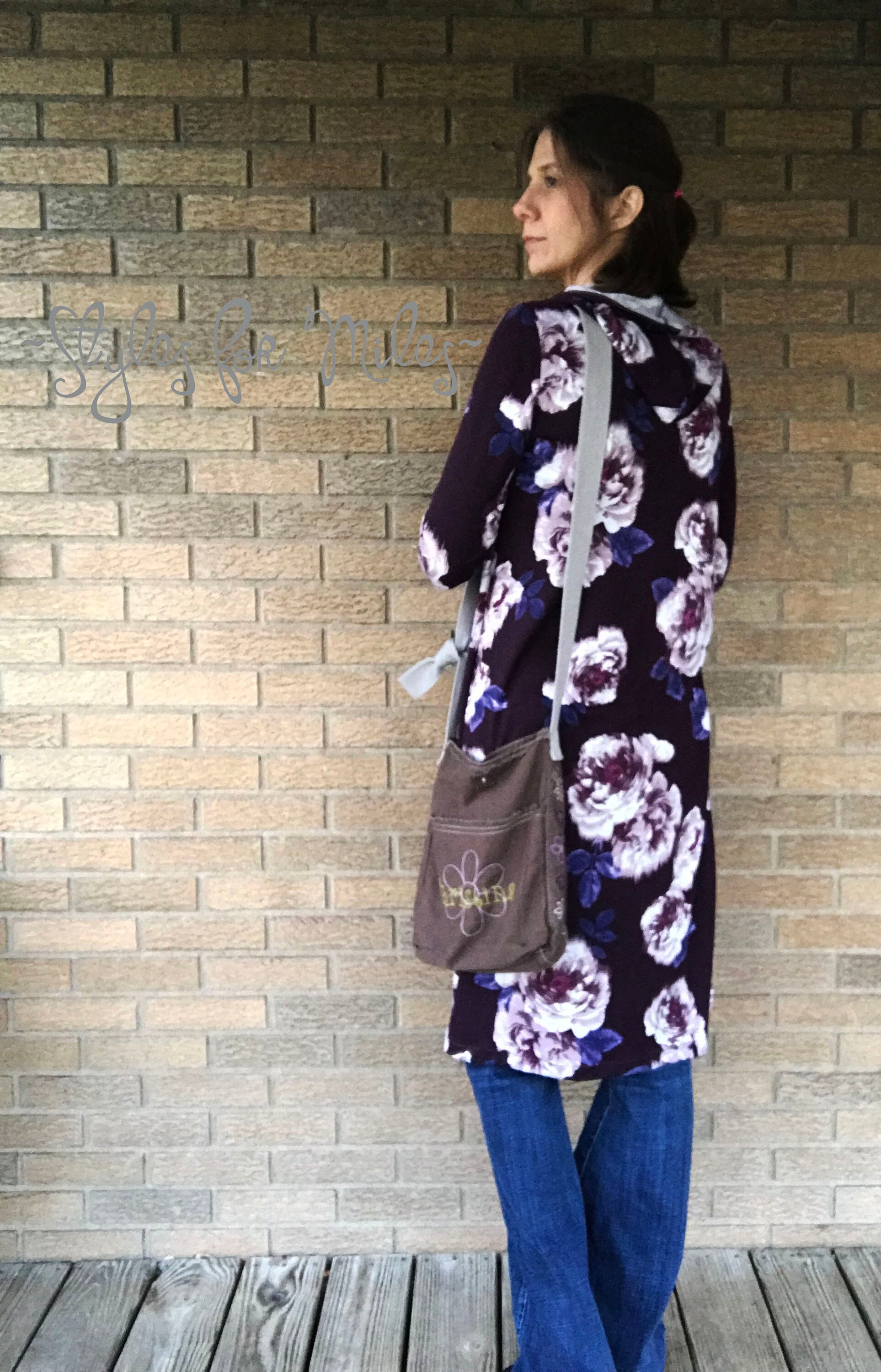 _______________________________________________________________________________________________
This post contains affiliate links.  Using these links to make a purchase provides a small amount towards helping to support my sewing endeavors, at no cost to you.   All opinions are my own.  Thank you! 
_______________________________________________________________________________________________
Follow me on Instagram: @styles_for_miles_love or on my Facebook Page.