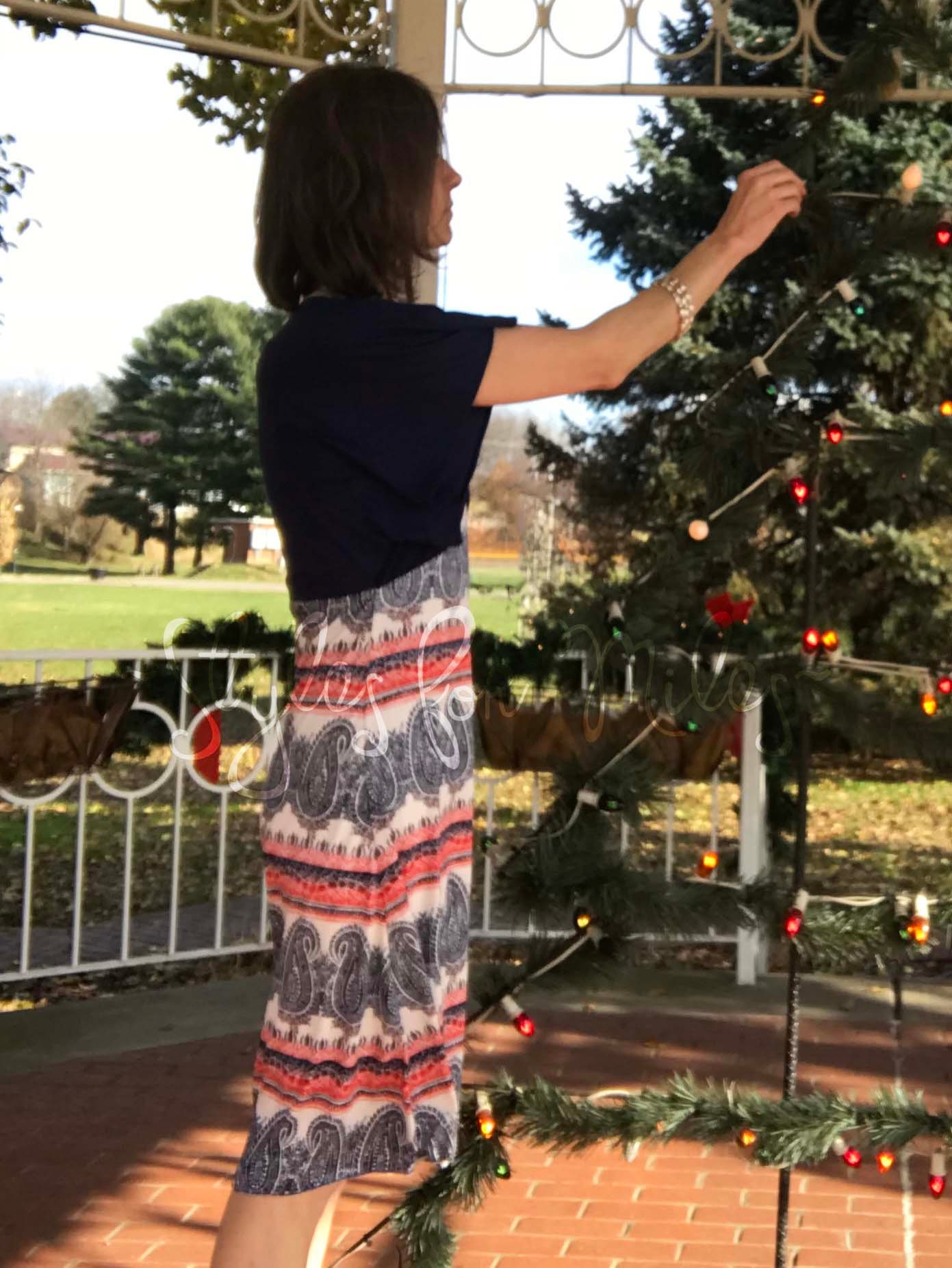 Let's Get Ready to Party...
I was allowed the opportunity, recently, to test for a new to me designer, Rebecca Page (affil link).  I have purchased a couple (ok, 3) RP Patterns, and have another on my Christmas wish list.  When I saw the testing call for the Portia Party Dress, I didn't hesitate to apply.  
The Skinny
The pattern includes pattern pieces for both knit and woven fabrics, a double bonus.  The pattern pieces and instructions are slightly different for each version.  
The knit dress is more form fitting and can be pulled on over the head.  Stretch requirements for the knit are 40% with the recommendation for 4-way to achieve the best drape.   
The woven dress has more ease and includes an invisible zipper at the side seam.  Light to mid-weight wovens are recommended.  
You can choose 1 of 2 styles for the back bodice: half open back or full open back, both of which close with a ribbon or thread loop and a single button.  
There are 4 lengths:  maxi, midi, knee, and above knee.  
Either option may be lined or unlined.  
The V-neck bodice can be turned under and topstitched or finished with a facing (watch for the blog post in the upcoming week). 
There is a neck binding option for the knit version.    
The pattern is available in Ladies XXS-5XL(affil link), Childs NB-12 years (affil link), 18 inch doll version (affil link), and a BUNDLE with all 3 versions.
There is also a FREE version, including only the KNIT, KNEE LENGTH version of the dress.  
My Assignment
For this test, I was assigned a size small, knit, knee length version.  I only had 4 pattern pieces to trace and cut out; front and back bodice and front and back skirt.  The tutorial was very well written and the instructions were easy to follow.  The part with which I struggled most was finishing the v-neck.  At the time of the test, only the turned under and topstitched method was available.  The facing and neck binding options were additions made due to this being a struggle for many.  The facing would be my option of choice on my next Portia Party Dress.  The knit version also has the option of a center front gather at the bust.  I decided to give this a go, and love the definition it gave to the front bodice.  It requires a piece of 1/4 inch wide elastic x approximately  2 inches long.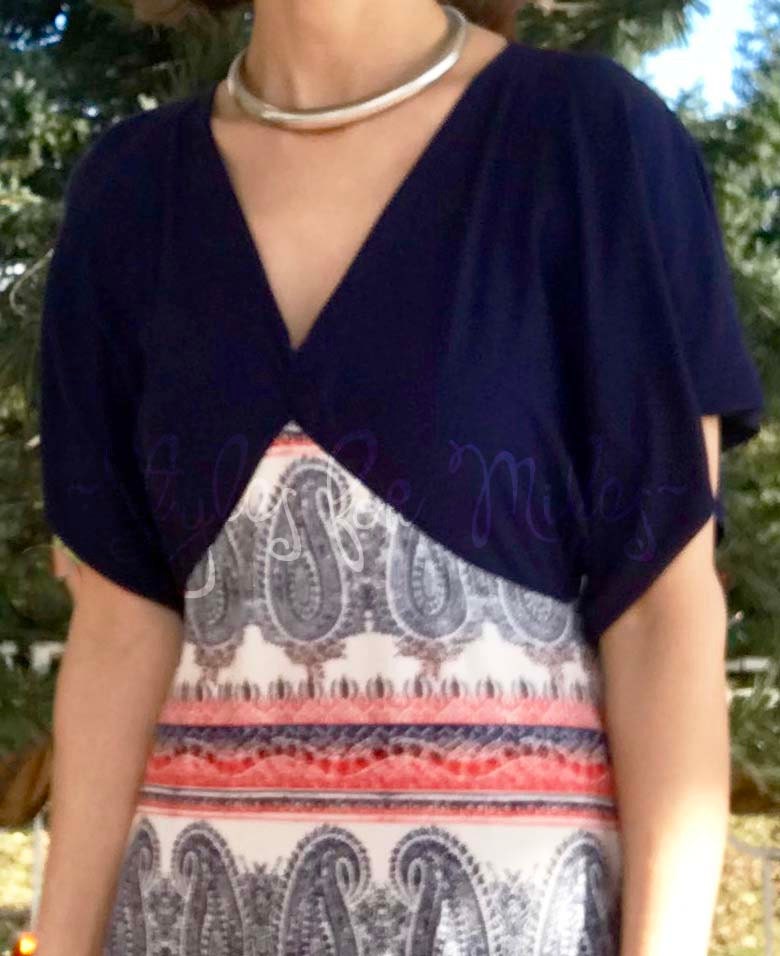 The back skirt includes 2 simple darts which I think give the skirt a beautiful drape and flow.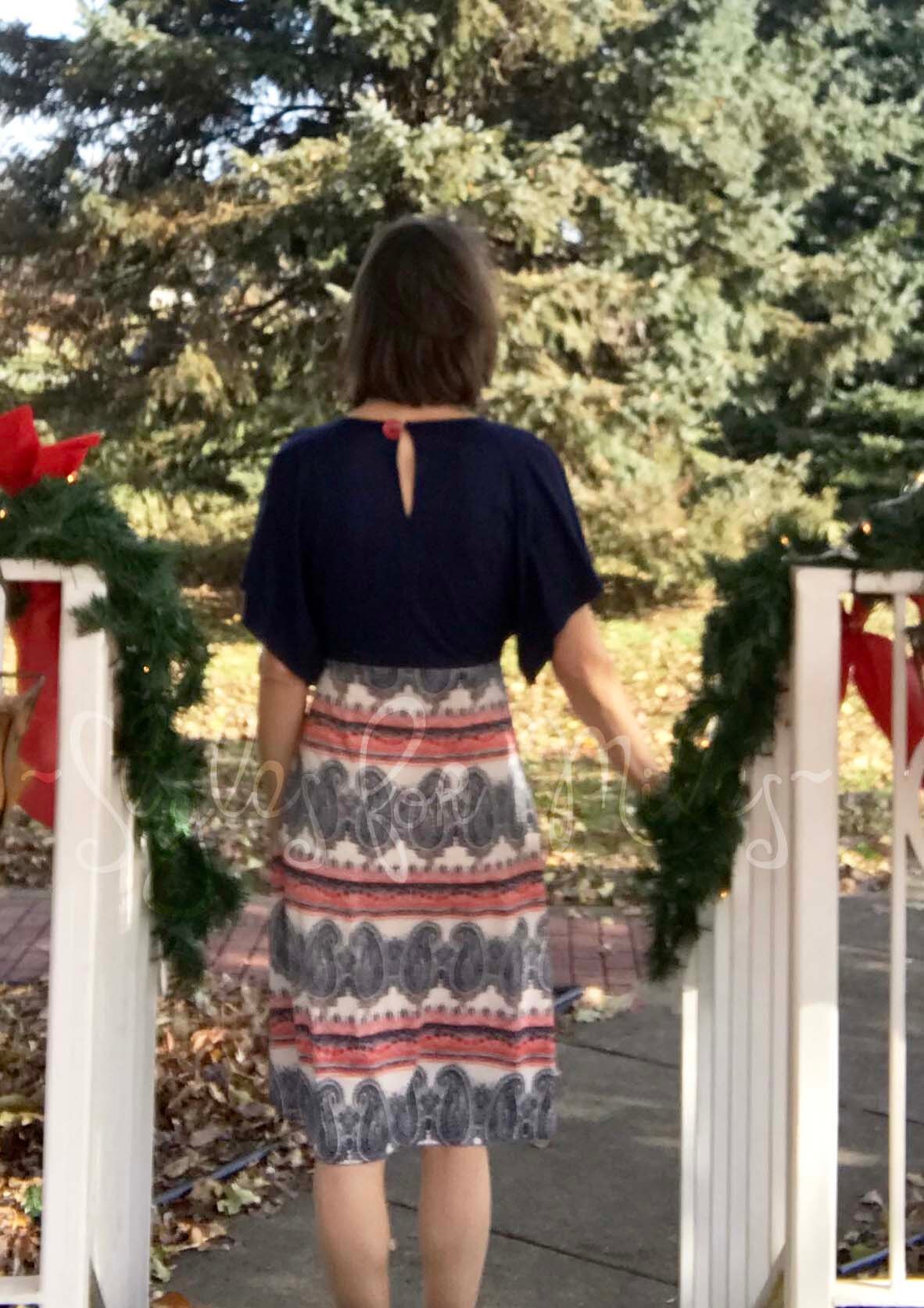 Since I most likely will be wearing my dress to Sunday morning church services vs parties, I chose the half open back.  The only matching button I had available was a big, red one.  I went with it.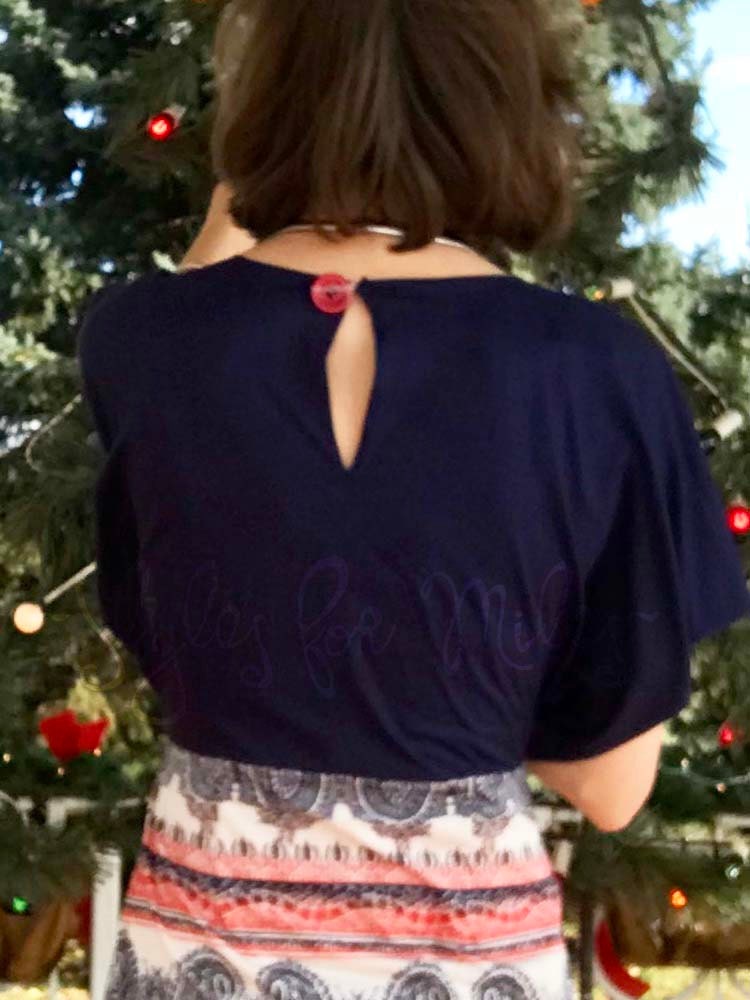 The bodice sleeves on this gown so remind me of an angel dress.  I turned under and topstitched my sleeve hemlines.  The sleeves are fairly open and billowy, which didn't prove to be an issue for me, but if modesty dictates a less open sleeve, there's instructions in the tutorial for closing them up a little more.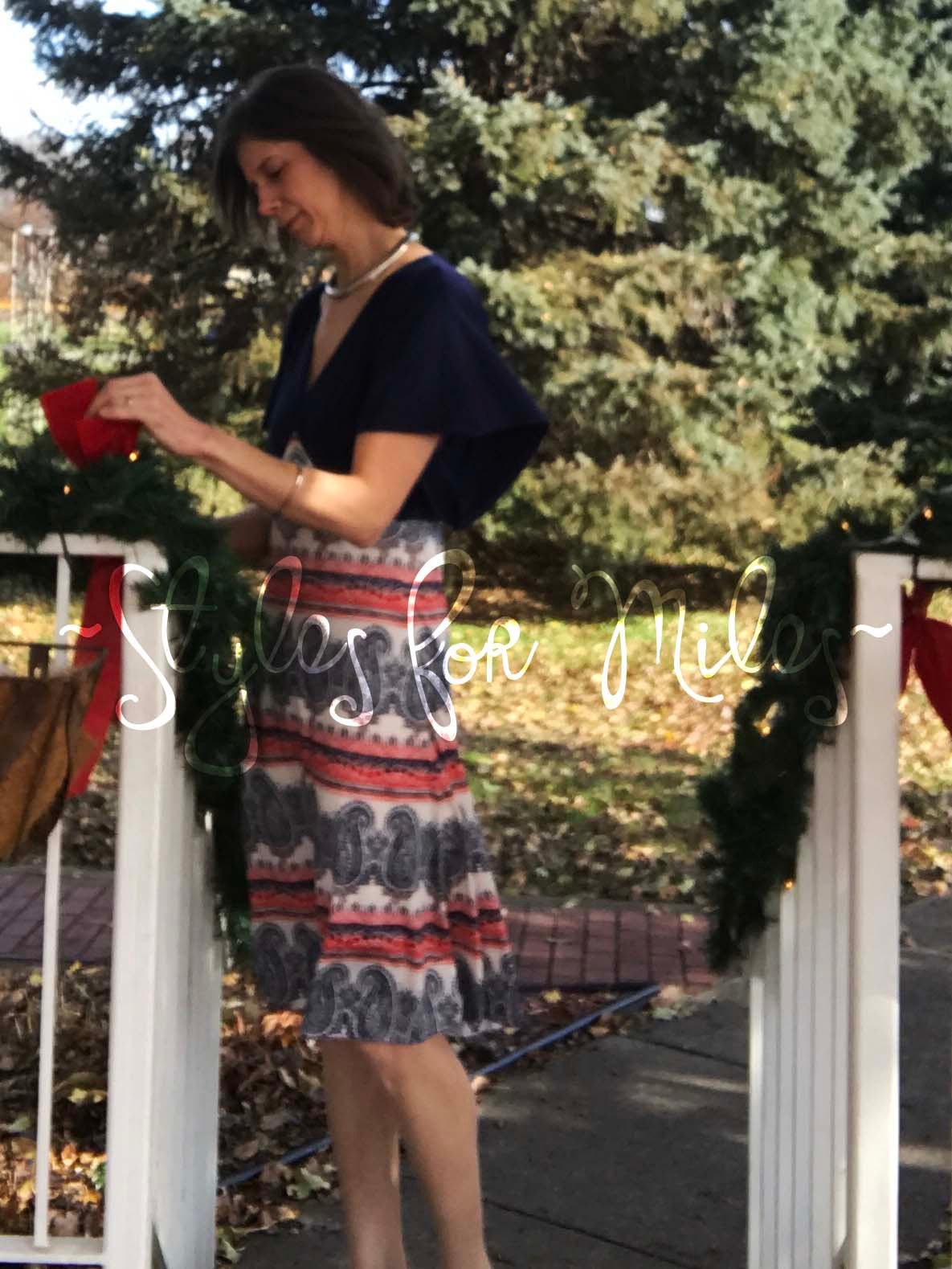 The material I used for my knit version was a navy double brushed polyester from Vinegar + Honey Co for the bodice and a paisley ITY from So Sew English for the  skirt.  At first, in my tester fit pics, I wasn't crazy about the skirt fabric.  Since dressing up and taking my final photos, I have changed my mind.  I now LOVE this combination.  It's unlike any I already own.
Oveall, I plan to make another Portia Party Dress, sometime.  Actually, this one was meant to be a fit model only, but time had other plans and it was the only one I could get completed by the deadline.  Not that it was a difficult or time consuming sew, because it wasn't.  My other roles in life just took priority over another dress.  It happens.  I've learned to strike a balance.
______________________________________________________________________________________________
This post contains affiliate links.  Using these links to make a purchase provides a small amount towards helping to support my sewing endeavors, at no cost to you.   All opinions are my own.  Thank you! 
______________________________________________________________________________________________
Follow me on Facebook at Styles for Miles or on Instagram @styles_for_miles_love.