Why Test Drive?  
Prior to offering a garment in my shop, I always sew up a version for myself.  This allows me to become familiar with the garment construction, pinpoint any areas in assembling the garment on which I need to practice, try out the sizing and see if it's true to fit,  and wear the garment to see if it fits in with the vision I have for my shop of casual clothing that can take you anywhere--home, work, or on the go.  This particular test drive came about with my participating in my very first sew along.     
Sew Along:
The process of being walked through construction of a garment from start to finish, generally with helpful videos posted by the host(s), typically with a 4-7 day time frame to complete the garment, with the chance to win tempting sewing prizes at completion for posting photos of your finished garment---aka my new sewing addiction.  
Enter in So Sew English Fabrics. 
Enter in New Horizons Designs Portlander Pants.
A match made in Heaven.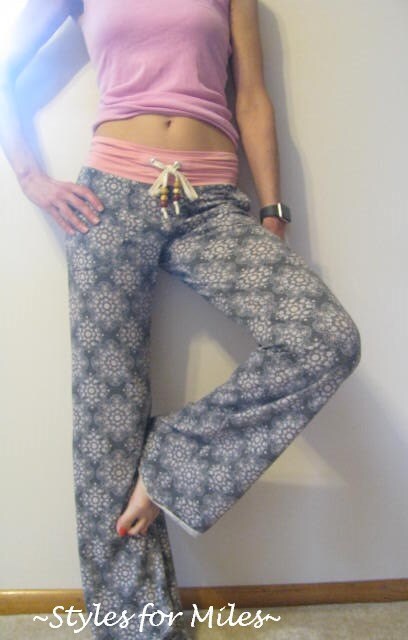 To try my hand at these oh so cozy looking pants, I chose a 2 yard French terry, 1 yard double brushed polyester, and 1 cord Zephra bundle offered up by SSE. This turned out to be a buttery soft, can't stop petting the fabric bundle. It was a dream to lay out, cut, and sew (the fabric alone makes me want to wear these pants every day).
The Portlander Pants pattern offers up a pants or shorts option, a tall waistband that can be folded down yoga style if you wish, optional drawstring, and optional patch pockets.  I chose all the bells and whistles for my first pair of Portlanders, and I don't regret it one bit.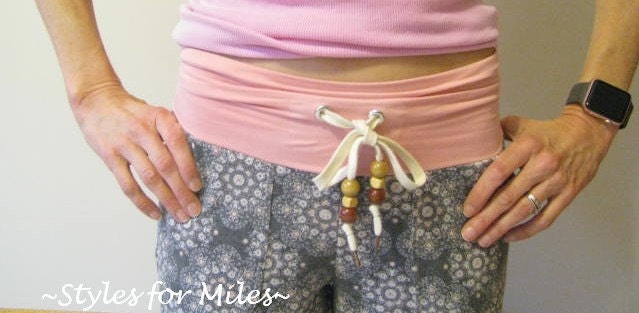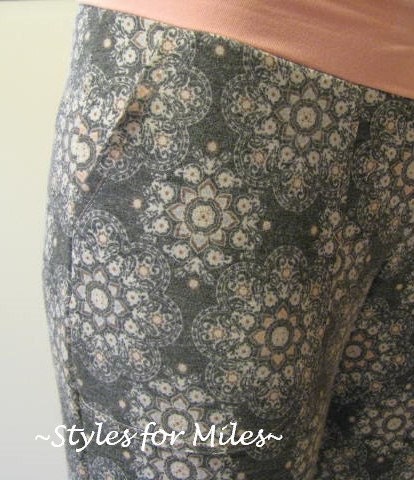 I followed the step by step videos posted in the sew along and construction of the pants went so smoothly--from printing to taping to cutting to sewing.  It was like attending a sewing bee!!  I especially appreciated the extra tips and techniques passed on along the way.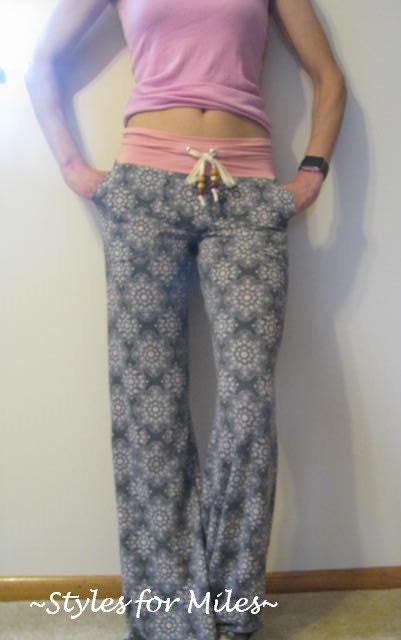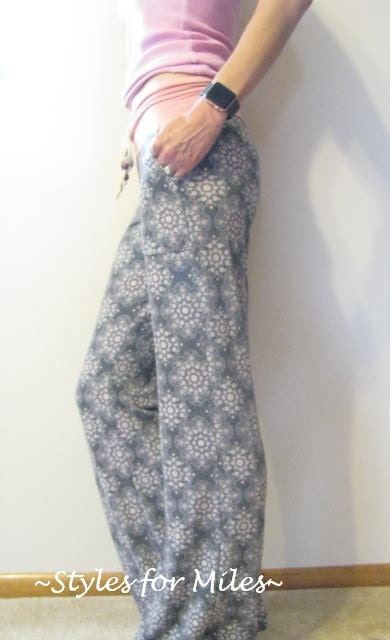 Something I want to note is that I did add almost 2 inches to the length of the pants (I think that stems from frequently having to wear high water pants as a girl) and finished the raw edge of the hem with a rolled hem stitch on my serger. In hind sight, I probably wouldn't have had to, but I did cut an XS waist graded to a S hip as I fit smack dab in the middle of the measurements for each.  The final result is a pair of pants that are comfortable, cozy, relaxed, and beautiful.  Made just for me, by me.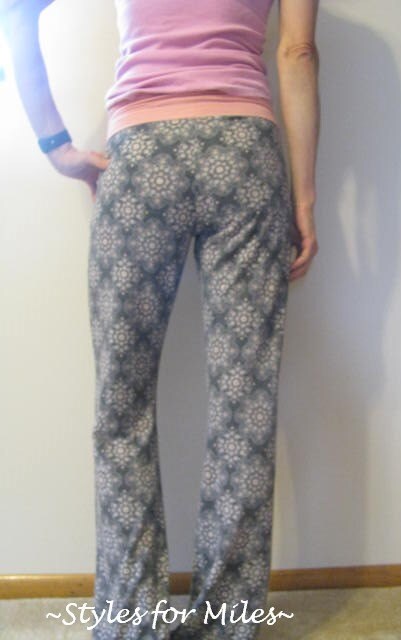 I wear these pants on a weekly basis.  They are perfect for lounging around the house or running around town errands on weekends.  I'm on the lookout for a knit print with the required stretch that would allow these pants to become workday worthy--maybe a subdued plaid or pinstripe.  In the meantime, I see many, many more  Portlander Pants in my future, especially now that fall is just around the corner.  
The pants version, with pockets and drawstring, are now offered in my shop in a super soft brushed polyester.  It's even more buttery soft and smooth to the touch than the French Terry I used for this pair.  Choose from 5 fabric variations or make a request and I'll see what I can find for you.  You can also request a custom length, if desired.  
You can shop for them here:  https://www.stylingwithchristina.com/listing/550271799/cozy-lounge-pants
I hope you enjoyed this glimpse into my sewing world.  What would you like to know or read about?  Feel free to drop a comment or make a suggestion for a future blog post. 
XOXO,
Christina